AlphaNovel's editorial team works to give the authors the best writing experience and users the high quality content. To make sure that there is a perfect match between fans of romantic novels and books, our team has prepared a set of rules for writers to get approved, and also described the conditions under which a book will not be able to get on AlphaNovel.
There is a detailed guide below!
To register on the platform and apply for a contract you need to fill in all the necessary information about yourself. Red asterisks indicate the fields that must be filled out. After entering your full name, pen name, choosing the gender and writing a little about yourself it is important to leave the links to your social media and to your published stories. When you are applying for the contract, please enter your correct data, in order to pass the KYC check. Be sure to put your Passport/ID number and your correct email address. Each book would go through the review process. If all the requirements are met, you receive contract approval and a ready-to-sign agreement. In other cases, you receive the rejection with a specified reason. If additional clarification is needed during the review, our team will connect you via the email.
Possible reject reasons
Incorrect writer details
The details that you fill in while applying for the contract will represent you as a side of the agreement and it is later used in KYC check. Consequently, it is really important to put in the correct data that matches the fields. Here is short explanation of the info that should be given in each section:
Name: your full legal first and last name which could be proved by your ID.
Passport: your ID/Passport number.
Email: email to which you have access as it is a necessary part of the contract's signing;
Citizenship: the name of the country whose resident you are;Address: your legal address of registration.
We sign the contract with a real person. Therefore, it is not possible to complete the signing process using your pen name or any other data that couldn't be proved 🙂
Examples:
Reject
Approve
Name: Funny Princess
Passport: 111111
Email: [email protected]
Citizenship: –
Address: USA
Name: Jennifer Rodrigez;
Passport: 0426098
Email: [email protected]
Citizenship: Spain
Address: Calle Primer de Maig, 19
Compliance criteria (KYC)
KYC verification is a mandatory procedure for identifying a person. We do this check in order to protect the platform (authors and readers) from possible fraudulent activities. This check includes all identification procedures (passport data and other data that we request at the stage of applying for a contract), as well as their analysis.
If the given data doesn't meet the requirements, the contract would be rejected.
If there are any issues with the confirmation of your identity, our team will connect you via email to ask for additional information.
| | |
| --- | --- |
| Reject | Approve |
| Funny Princess is filled in the contract | Jennifer Rodrigez signs the contract |
Prohibited content
We truly believe that all genres should have a right to be published. However, some stories contain a type of the content which couldn't be presented in annotation or chapters. Here is the examples scenes that could be rejected by our editorial team:
Child abuse;
Non-consent Sex/Rape;
Pornography;
Racism;
Encouragement of any kind of abuse;
Explicit violence.
Plagiarism
As plagiarism we define introducing the work or ideas of other people as your own with or without their consent, by including it into your content without full acknowledgement. All types of the content are covered under this definition.
As we are eager to defend the author's rights, we take such cases very seriously, so the application would be rejected and the novel would be deleted immediately.
If you've noticed any case of plagiarism on AlphaNovel, please let us know via [email protected].
Example of reject due to plagiarism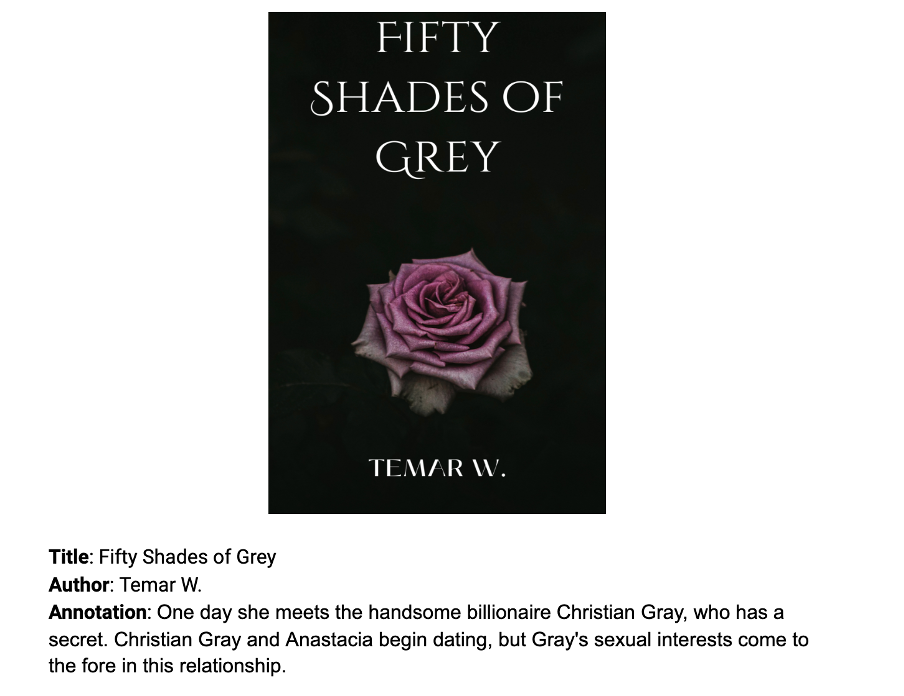 Novel's title, cover and annotation have a significant impact on the reader's first impression. That's why it is crucial to provide readers with high-quality content during the first touch.
The background of the cover should have high quality and 600×800 resolution. Placing the book's title and author's name on it is also a necessary part of getting an approval. Find more tips on making your cover an eye candy.
Annotation gives your readers the opportunity to dive into the plot and decide whether they want to continue their reading journey or not.
Poor editing
This reject reason could be a stumbling block not only for aspiring, but also for experienced writers. Editing influences the design of the content in the app and plays a defining role in the reader's perception of the content. To mitigate the risks of getting the rejection make sure that your novel meets such requirements:
All the content is written according to English grammatical and punctuation rules;
The spaces between paragraphs are equal and make the book easy to read;
The novel consist of sentences with correct and various structure;
The novel contains enough synonymous constructions to make the content attractive and interesting for the reader.
Make sure that all direct speech is properly designed, the toponyms start with a capital letter and dots are there.