Good day, esteemed community! We are delighted to share more detailed information regarding our Bonuses update. Brace yourselves for an enhanced rewards program that will take your writing journey to new heights, effective from July 1st, 2023, at 12 am UTC.
📌Important Note: All updated bonuses will be effective for applications submitted after 12 am UTC on July 1st. All previously signed books remain with the previous Bonus Plan that is stated in their agreement.
We believe that author's work should be rewarded, so we offer a fair royalty share: 50% of the Net Royalty for Non-Exclusive books and 60% for Exclusive books (we also have a Gross royalty model with 10% and 15% share respectively). AlphaNovel also has its bonus system as an additional benefit for the authors who reach some milestones. Below you could find a detailed description of all bonuses and their criteria ⬇️
*All bonuses, except the Monthly Attendance Bonus apply for both English and Spanish novels
First Release Bonus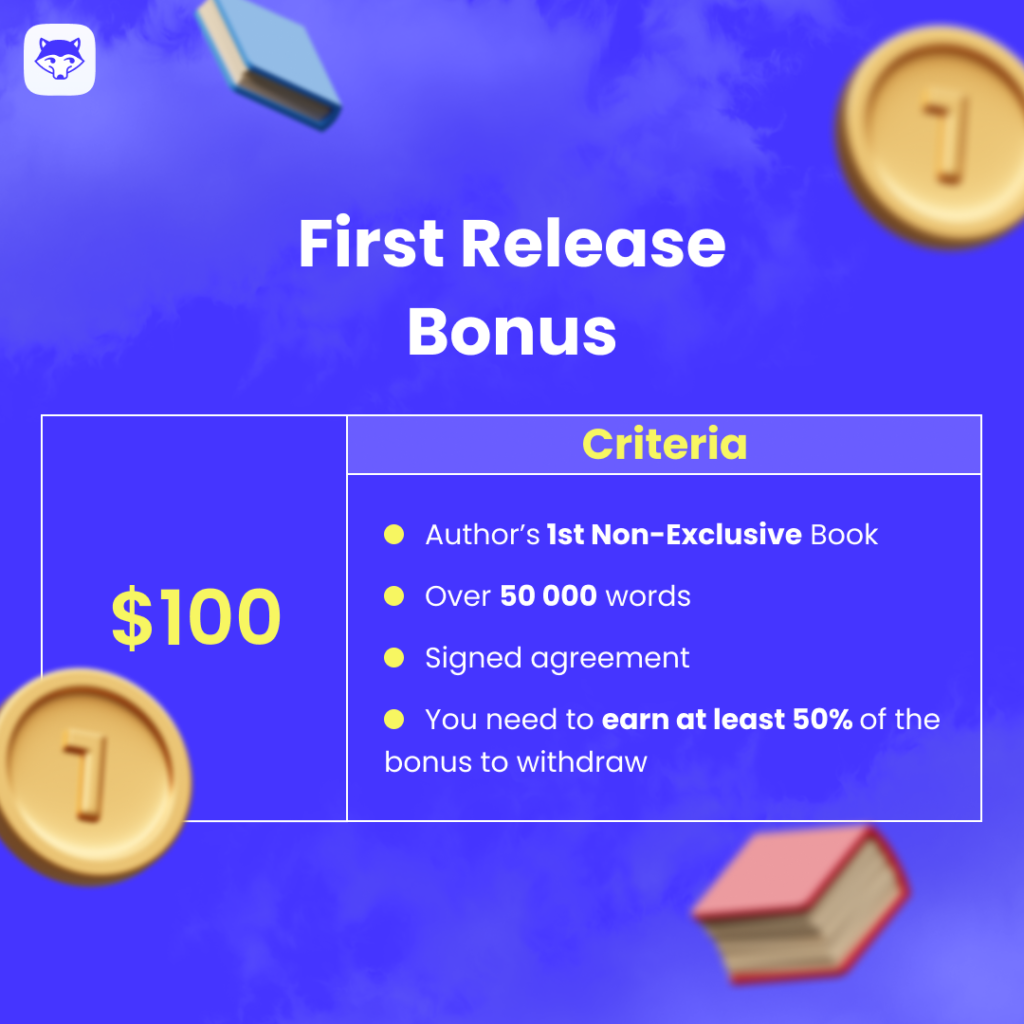 First Release Bonus is a reward for the authors who put their work on the platform under the Non-Exclusive agreement. This Bonus could be claimed only for 1 book that:
is signed under Non-Exclusive contract;
contains 50k+ words;
has earned 50% of the bonus (50$) in royalties;
This is a new type of the bonus, so if the author has a couple of books on the platform that were signed under the old bonus plan and has claimed old Non-Exclusive Signing bonus on them, the writer still could be eligible for First Release Bonus with the books applied after July 1st 2023.
Exclusive Signing Bonus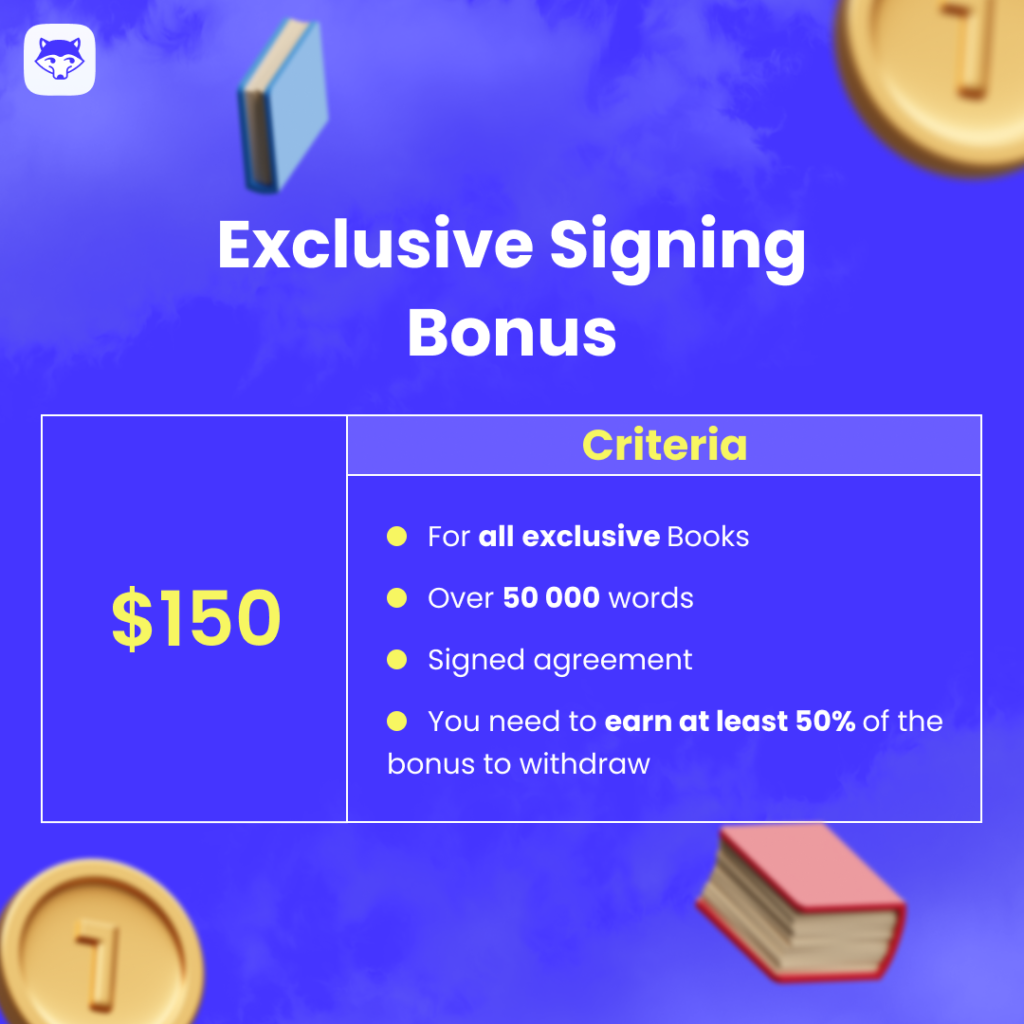 Exclusive Signing Bonus could be claimed for all author's Exclusive books that contain 50k+ words and have earned 75$ in royalties.
Exclusive Completion Bonus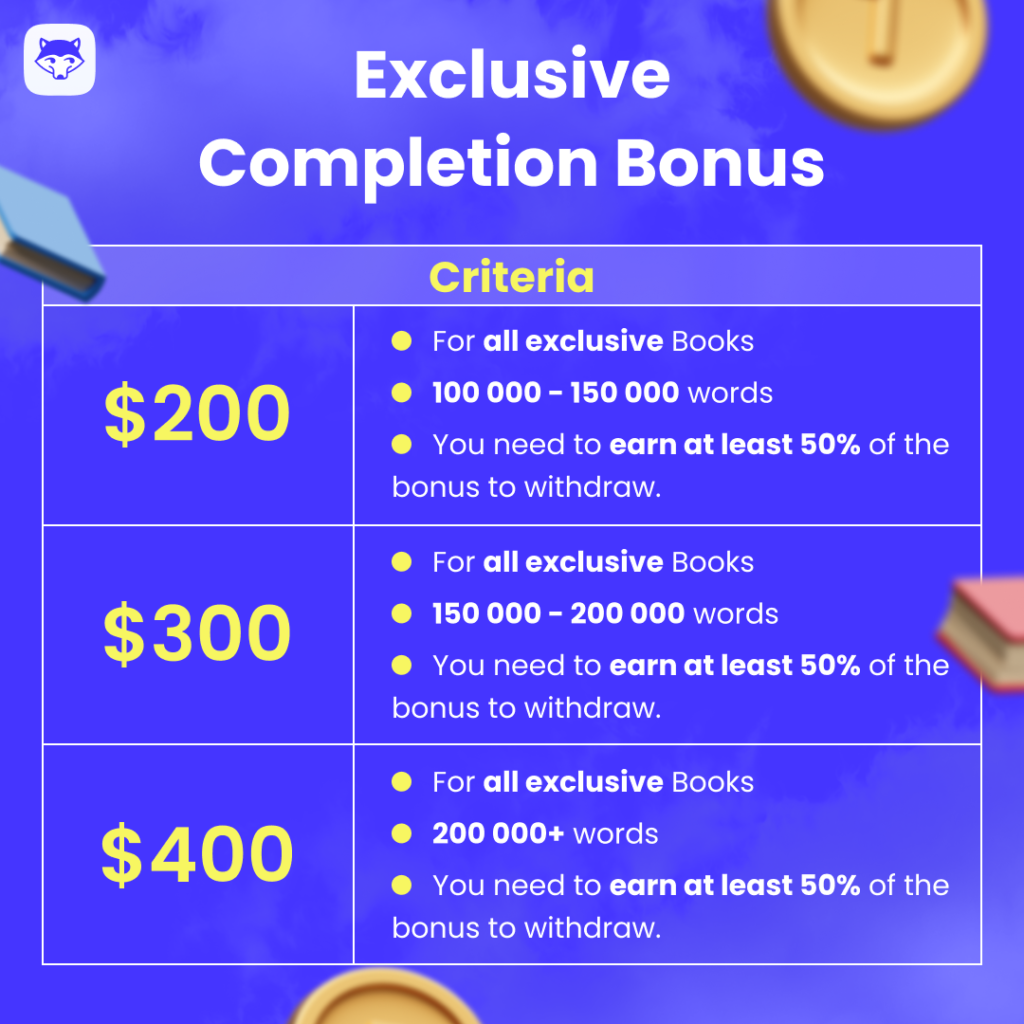 For the finished Exclusive books the Completion Bonus is also available. Its amount depends on the novel's length, so the threshold also differs. To claim the bonus the novel should meet such criteria:
signed under the Exclusive agreement;
marked as "Complete";
contains 100k+ words;
has earned the threshold in royalties;
Monthly Attendance Bonus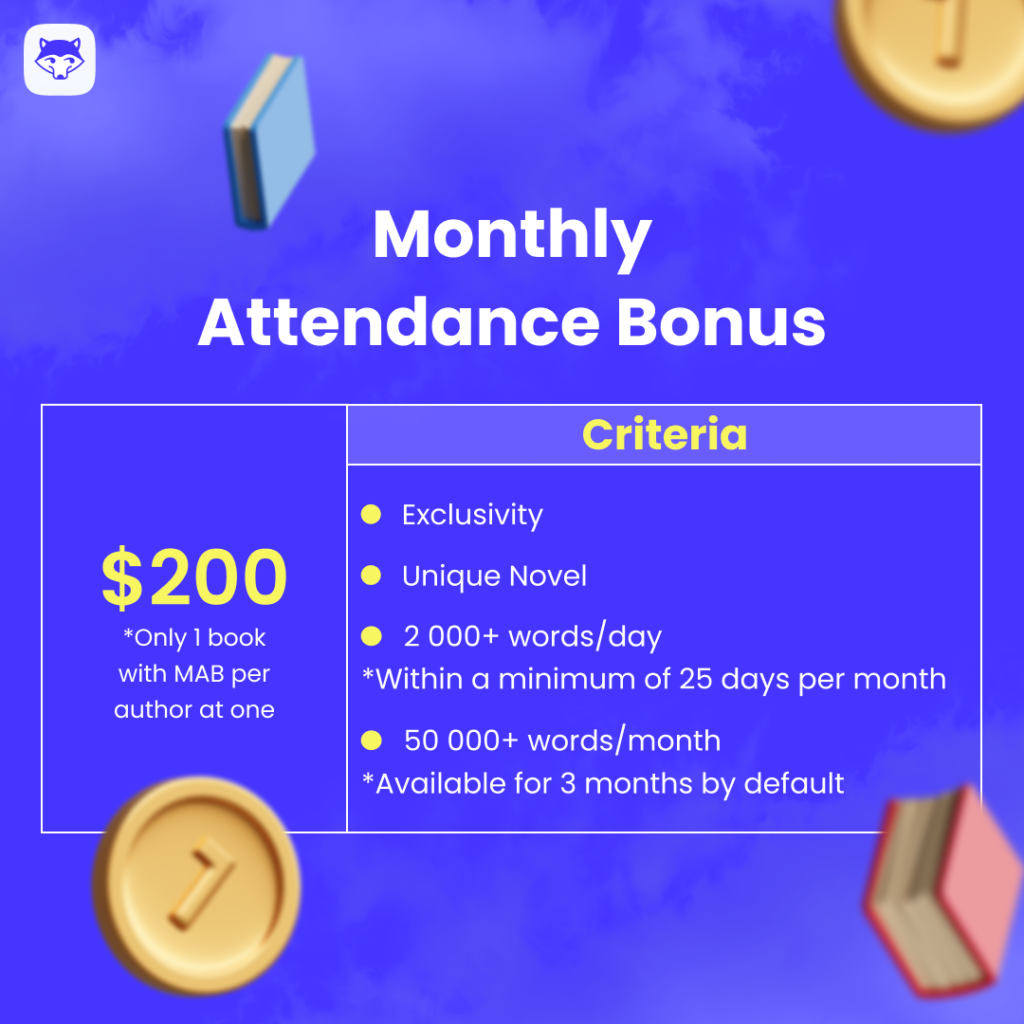 Monthly Attendance Bonus is a reward for the authors who consistently update their MAB Exclusive novels during the month. This bonus does not have a threshold that the author should earn in royalties as it has its own criteria. To get the Monthly Attendance Bonus author should:
apply for MAB Exclusive Contract and get approved;
update 2000 words daily within 25+ days in a month;
This bonus is available only for one book at a time and could be claimed for 3 months after signing and meeting the criteria.
**Only novels written in English could apply for MAB contract
Outstanding Bonus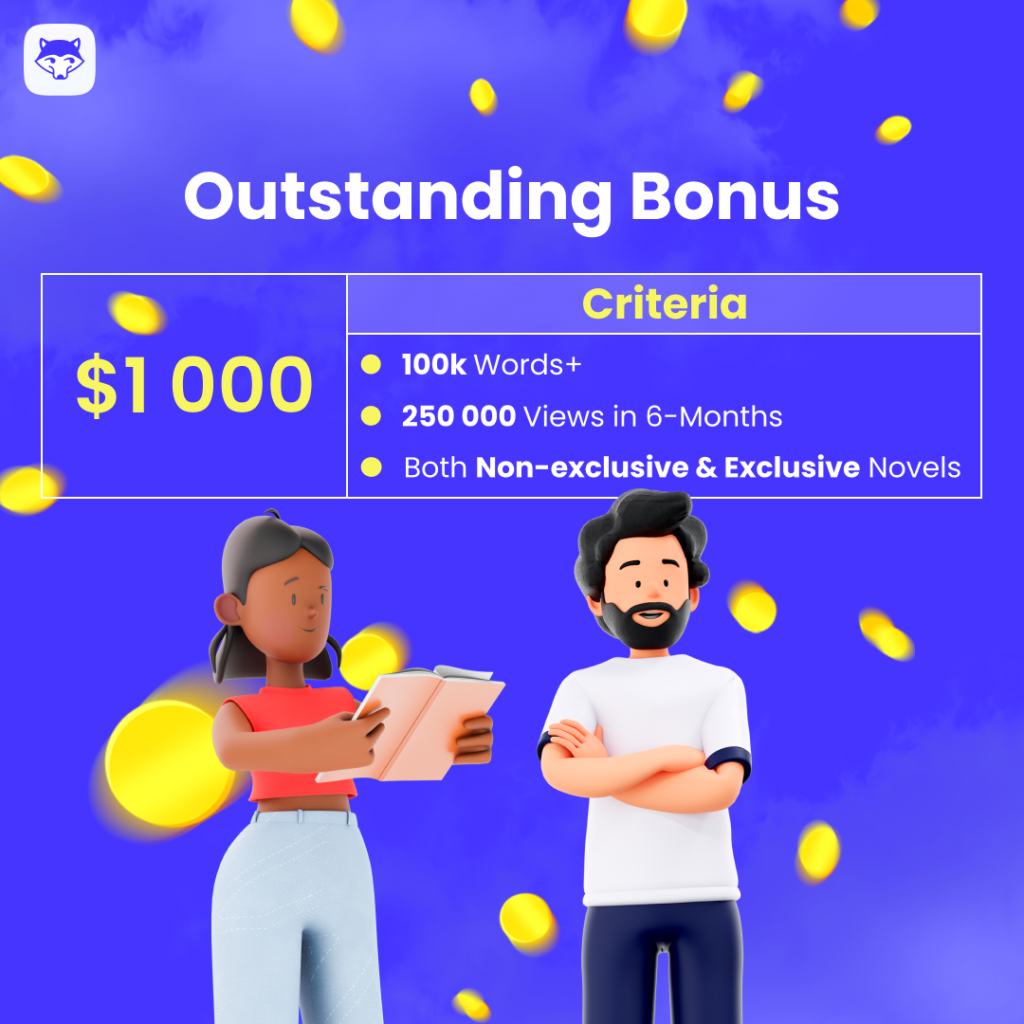 Outstanding bonus is an award for the most successful novels on the platform that contain 100k+ words and have collected 250 000 views within 180 days after first publication. All Non-Exclusive and Exclusive books applied after July 1st 2023 are eligible for it once meeting the requirements.
Here are some calculations on how much the Exclusive novel could earn on AlphaNovel if it is a fit for the audience 😊 💸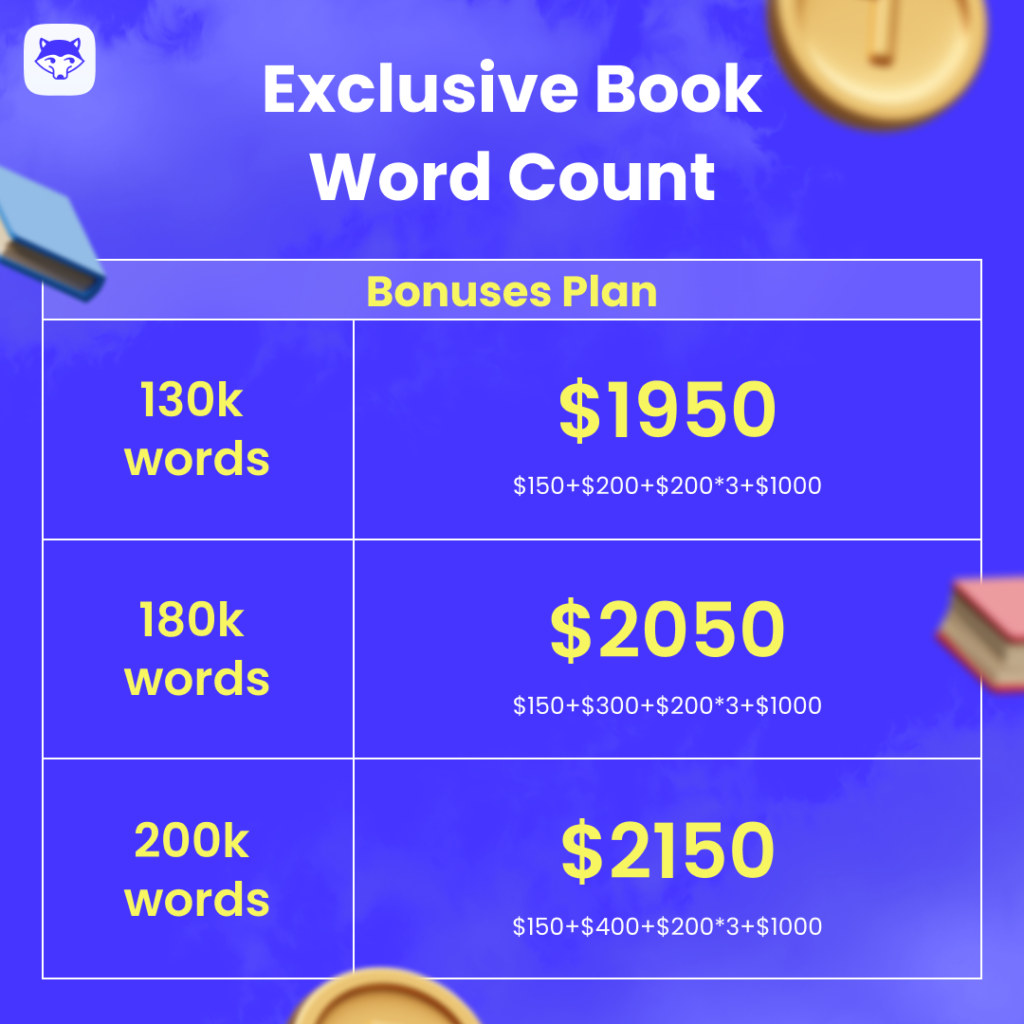 We believe this update will serve as a powerful motivator, encouraging all authors to create masterpieces and achieve their writing goals 💪🏻
Happy writing!